For PGI-5, PGI-9PBK, CLI-8, PGI-220 CLI-221 PGI-225 CLI-226 PGI-250 CLI-251:
The Printer Will Still Show "Empty" After Refill!
These are new Canon cartridges which have an embedded chip on each cartridge. If you just refill the ink, the printer will still reads the cartridge as empty. You have these choices:
Print as many pages as the printer allows you. When the printer stops you from printing eventually, buy a new cartridge.
Purchase a "refillable cartridge" from BCH (links below) or other sellers. These refillable cartridges have an auto-reset chip (non OEM) and will reset automatically.
Use a chip resetter (e.g., search Canon + model number + resetter on eBay). Follow the instruction below to refill your original cartridge, and use the resetter to reset the chip. Your refill kit does not include a chip resetter. We do not sell resetters because we think ARC chip is a better solution.
Product Links for BCH Refillable Cartridges:
Procedure to refill OEM cartridge:
Seal off the bottom ink outlet with duct tape. If you have the orange clip came with original cartridge, you can use the clip and tighten with rubber band, or press and hold the ink outlet hole against a rubber sealing pad (e.g., rubber eraser). Make sure the seal is tight and ink will not leak. If you do not seal the ink outlet, ink will drip from the ink outlet hole. Reset the chip if needed (see chip resetter's manual). It is the best time to do it now than filled with ink.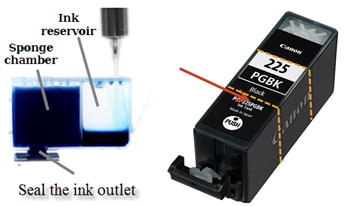 After seal the bottom, drill a hole from about 1/3 of the way from bottom
. Attach needle to syringe and load syringe with ink.
3. Insert needle into the hole. Make sure needle reaches to bottom of cartridge.
4. SLOWLY inject the ink into the cartridge. Stop if the ink begins to well up from the fill hole. DO NOT OVERFILL.
Seal the refill hole with adhesive tape or hot glue gun.
After you remove the sealing pad from ink outlet, a few drops of ink should be expected to drip from the cartridge. Let the cartridge sit for 10-20 seconds until it is no longer dripping ink. If you don't get any more drips, the seal is good on the top. Otherwise re-seal the refill hole.
Install the cartridge into printer.
*Repeat steps until all colors have been filled.*
**Run one or two cleaning cycles until the cartridge begins to print correctly.**
***Do not exceed three cleaning cycles.***