This manual is for Non-OEM cartridges. For the manual of refilling original Epson cartridges, click here.
The manual covers these products:
Product Link


Expose Vent Hole.
(A) If your cartridge has a yellow tape, tear off the yellow tape. It will expose the vent hole.
(B) If your cartridge does not have a yellow tape, the vent hole is sealed by a plug. You will have two plugs; one is vent plug and the other is refill plug.
When two holes are on the opposite side, the color plug is the refill hole (Picture B)
When two holes are on the same side, a vent hole is on top of Air Balance Chamber (ABC) which has a series of dividers (Picture C).
Remove the plug. The vent hole needs to be open during operation. Therefore, you do not need to re-insert the air plug. The vent hole is on the top of the cartridge. There is a clear plug underneath some models of cartridges; it is not vent hole and do not remove it.
| | | | |
| --- | --- | --- | --- |
| | | | |
| Picture A. Vent holes covered by yellow tape. T125, T126, T127 | | Picture B. Vent holes are in the front sealed by a clear silicone plug. | Picture C. This is same as picture A, except the vent hole is covered with a color plug and refill hole is covered with a clear plug. |
2. Remove refill plug and fill each cartridge with ink. If you find it is very hard to fill, you have mistaken the vent hole with refill hole.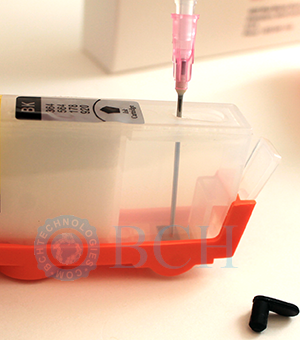 3. Install into the printer. Push it down until you hear a click. If the printer throws an error, try to remove the cartridge and re-insert. If the problem persists, install the original cartridge, print a page and switch back to a refillable cartridge.
TO RESET INK LEVELS:
You cannot force the printer to reset ink levels. You have to wait till the printer display an error "ink cartridge cannot be detected" (not just low ink warnings), and then open and close the printer lid. The ink level will be full again. This is because the reset process must be triggered by a printer error (a warning is not an error so the low ink warning will not trigger reset). Once the reset is triggered, you need to let the printer think you changed to a new cartridge, so you open and close the lid. If the reset fails, you can repeat the process and also power off the printer.